Steel stairs see frequent deployment in modularized construction and structural skids. Allowing for easy movement through a process module or plant, steel stairs meet building codes to allow safe passage for industrial workers. In this article, you will learn about the engineering and design, fabrication, and maintenance of steel stairs.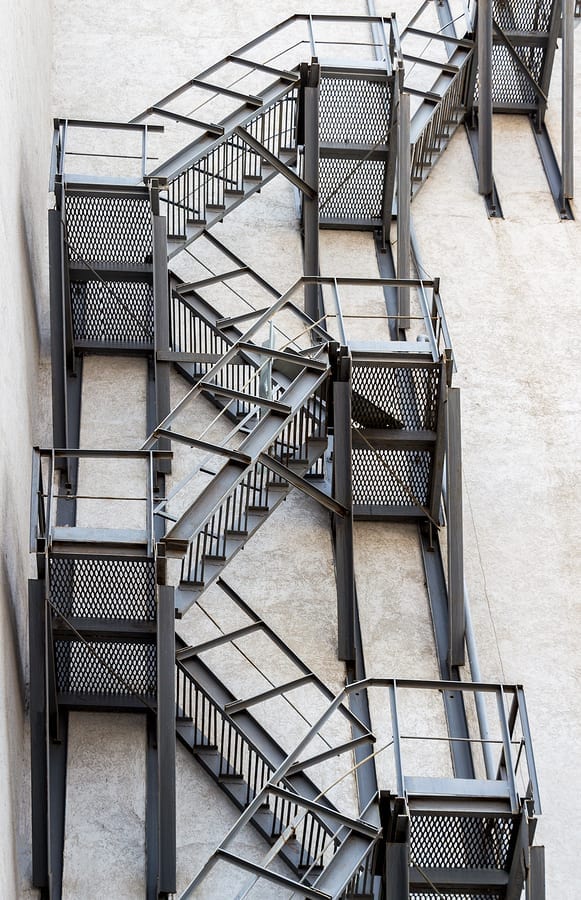 Engineering and Design
Steel stairs must meet specific regulations and design criteria. In the design portion of creating steel stairs, regulations and codes, rise over run, handrail, and step/fastener configuration are important elements.
Regulations and Codes
OSHA works to regulate safety in a plethora of work environments. Because of their involvement in workplace safety, most steel stair designs are OSHA compliant. Some of the regulations OSHA implements for steel stairs are riser heights, minimum stair width, minimum tread depth, and tread nosing for straight leading edges. All stairway standards are in OSHA standard 1910. Employers are responsible for the installation of stairs that are compliant with these specific codes and standards. Stairs need to be in compliance with the International Building Code. Despite its name, the International Building Code (IBC) is primarily in use in the United States and its adoption varies from state to state. Most international codes require minimum width, riser heights, and specific tread dimensions.

Client specifications may include design criteria that directly contradict OSHA or IBC regulations. In such a case, engineers that design stairs must provide clear guidance and resolve potential conflicts as necessary. When client specifications are lacking, fabricators typically provide a standard design that meets both OSHA and IBC standards.
Rise over Run
The slope, or rise over run in steel stair design must comply with code and access requirements. The rise accounts for the elevation of each step while the run determines the width of each step. To meet OSHA regulations, steel stairs must maintain a rise of 6 to 7.5 inches and a run of at least 22 inches. The rise over run of a steel stairway serves as one of the most important design considerations. If the rise of a stair is too high, accidents increase. Similarly, if the run of a steel staircase is too small, the narrow step may account for many workplace accidents.
Handrail Design
Handrails serve as safeguards on steel stairs to allow three points of contact. The three points of contact rule means the user is applying two feet and one hand during stair use. Design for handrails must follow the same formatting as the main staircase assembly itself. Dependent on the application of the stairs, the slope of the railing must align with that of the staircase. They must also support the weights and loads that the stairs will see in their lifetime. Handrail design standards may specify handrail curvature and the distance the handrail must extend past landing areas.
Step and Fastener Design
Other considerations in the design include the step design. Designing stairs with perforations removes the need for grips on the steel steps once the fabrication process is complete. Steps assemble together via welds or fasteners, depending on client specifciations, load requirements, or a fabricator's preference.

Fabrication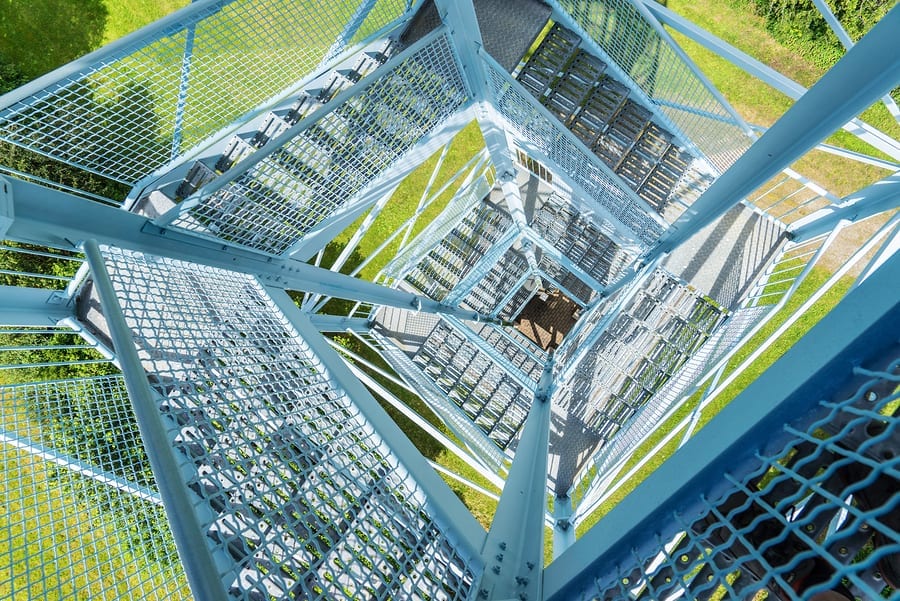 Most steel stairs are engineered to order as each individual staircase must comply to the structural skid design. Once a completed design meets OSHA standards and customer specifications, engineers issue drawings to the shop where fabrication begins. Steel stair fabricators utilize steel from raw steel providers and weld/fasten as per design requirements. Many steel fabricators possess internal capabilities such as a plasma or laser jet cutter to customize required parts.
Handrails are typically welded o follow the shape and curves of the steel stair structure. The quality of these welds dictate the load bearing ability of these handrails and are crucial to the overall safety of the stair case. Similarly, steps are fabricated depending on the application. Some steel steps are perforated using the metal itself while others are often equipped with an epoxy grip material to prevent slips.
Generally, fabricators either paint or hot-dip galvanize steel stairs. Painting uses multi-coats to ensure compliance to customer specifications and ensure longevity. Painting may be an internal application or done at a subvendor's facility. Galvanization is the more expensive and durable option where the stairs and dipped into tank of molten zinc.
Most fabricators prefit stairs to a structural skid prior to shipment to ensure proper fit. For stairs that do not have an associated structural skid, additional dimensional checks must be taken to ensure a proper fit.
Maintenance
Maintaining a set of steel stairs promotes the safety of the users as well as increases the life span of the stairs themselves. Because of this, routine checks on steps, rails, and platforms for any loose bolts, failing welds, and rust should be done. If any defects are found they should be reported and fixed immediately as to preserve the safety of those using the steps.
Paint durability is one of the most frequent stair maintenance issues. Typically these issues result from an improper paint application or an inappropriate paint system for the geographic area.